Are you asking yourself if you can mason, mow, hew or cook? You don't need to worry, nobody knows everything and you can learn everything very easily.
God has work for everyone. (Ernest Hemingway)
Everyone who comes for the first time don't know what to expect, that's only natural. People who helped us in the past (we like to call them "starí kláštorníci") know that it is not only about work, but also energy you get from this place is equally important. It is a little Paradise here on Earth. It has happend many times in the past that the groups of tourists which were only seeking for a place to stay overnight, stayed here for a few days and helped us. A man will get to know a lot of strangers, have a lot of fun and get a huge amount of positive energy.
What kind of work is it?
At the beginning of summer, first course is cleaning monastery area, for example: work with bush cutter, haymaking, repairing of fence, preparing wood for stove, picking weeds, collecting herbs, digging new hole for latrine (we call it "Mordor"), coating of shingels, work in kitchen, fetching water, etc.
Other courses are mainly restoring the walls. There is work for whole summer (and even more). We want to prove that enthusiasm, will and work of volunteers can save this historic landmark. We don't want to fully rebuild monastery, but we want to preserve it for future generations. This has two reasons: limited financial options, because there is no support from state; and effort to keep current look and atmosphere of monastery ruins.
How long will I work?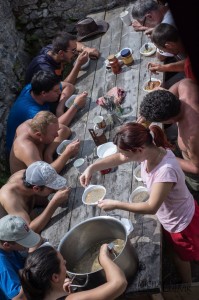 Waking up is between 7:00am and 7:30am, people who help in kitchen even sooner. Around 8:00am the work is distributed among people. Then everyone is working until lunch which is served around 1:00pm. After lunch there is short break and then works continue until around 4pm. When all work is done you can go for a hike, play football, have a beer or do nothing, it's really up to you. There is alwys a lot of fun. After dinner we usually sit around fire, or in a small cellar. The talks continues until everyone is tired.
One of the greatest joy is the rest after work. (Immanuel Kant)
What should I take with me?
The most importat thing is will to work, good mood and sleeping bag. Accomodation and food for volunteers is free.
Dates
You don't need to come for a whole week, we will be more than happy if you will come only for few days. It would be great if you could let us know when are you coming by filling this contact form. Or you can just RVSP on Facebook. When you done this, then all you need to do is come. We are looking forward to see you!